Following the success of the TALLAGHT Swim Team hugely popular Marion Lane Gala in Tallaght Sports Complex, Balrothery, the date for 2022 will hopefully be early June. This will be a level 3 gala (pending licence) and last chance for swimmers to achieve Division 2 times.
Run in memory of the much-loved Tallaght coach and master swimmer Marion Lane who sadly passed away in 2017, this short course gala is a Level 3-licenced meet that provides swimmers with a final opportunity to register qualification times for the National Division Two Championships.

Tallaght Swim Team were out in force for the club's annual Marion Lane Gala in Balrothery 2019

The gala will comprise of three sessions, with distance events taking place on the Saturday evening and the remaining sprint and relay contests being run on Sunday, making for a total of 40 events.
More than 300 swimmers, representing 28 clubs, took part in the 2019 competition with visitors from across 14 different counties.
In 2019 it was young Dublin swim club 'Swan Leisure' who had the honour of raising the Marion Lane Cup after winning the Girls 9-12 200m Medley Relay, Head Coach Pauric Kenny making the presentation.
Among those present at the 2019 event was Tallaght and National Centre international swimmer Brendan Hyland who put in a great show when competing in the 400 Individual Medley.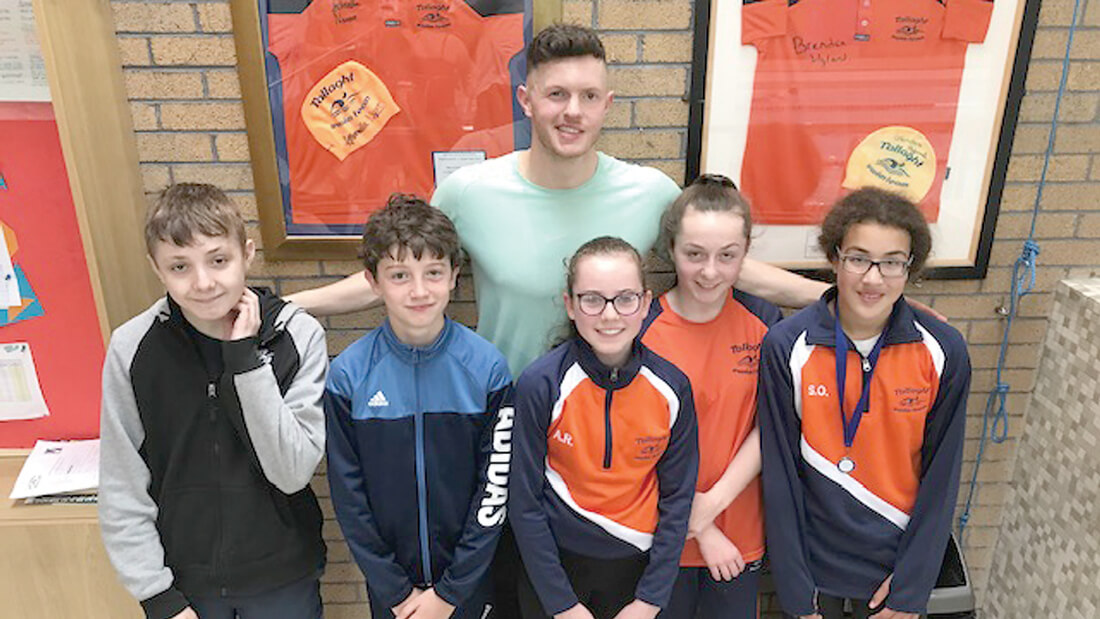 Brendan Hyland and some Tallaght swimmers
"It was great to see Brendan at the club and still holding his grass roots". "He even had the time to sign autographs, pose for pictures with younger club members and his club coaches alike. "He is a great ambassador for the club and indeed for the world of swimming".
Tallaght swim team were the first club to use back wedges for competitors in the back stroke events at club level in 2019 and will use again in future galas.
"We would also like to thank all our sponsors for their generosity and support. Also a very special thanks to all our volunteers. Without their selfless contribution the club would struggle to continue".
Please keep an eye on the website and through your clubs for further information nearer the time.